Carpool lanes are dedicated lanes for vehicles carrying multiple passengers during rush hour traffic. The purpose of these lanes is to encourage carpooling, reduce traffic congestion, and improve air quality. However, despite their importance, carpool lanes in Las Vegas, Nevada are facing a significant issue: carpool lane violations.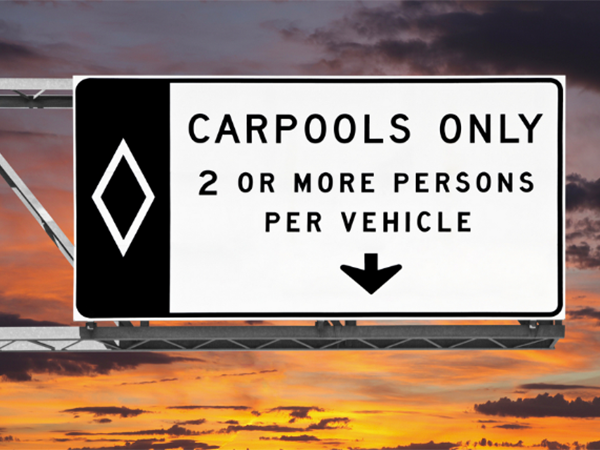 Las Vegas Carpool Lane Violations
Carpool Lane Violations in Las Vegas
Statistics show that the number of carpool lane violations in Las Vegas has been on the rise in recent years. Drivers who are caught using the carpool lane without the required number of passengers can face penalties ranging from hefty fines to points on their driving record. The most common cause of carpool lane violations is simply drivers trying to save time during their daily commute by using the HOV (high-occupancy vehicle) lane.
The Need for Stricter Enforcement
To address this issue, stricter enforcement of carpool lane regulations is necessary. Currently, law enforcement uses cameras and patrolling officers to monitor the use of carpool lanes and enforce regulations. However, many drivers still continue to violate the rules. By increasing the frequency and visibility of enforcement, the number of carpool lane violations can be reduced.
Alternatives to Carpool Lane Violations
In addition to stricter enforcement, there are alternative transportation options that can reduce the need for carpool lane violations. Carpooling, taking public transportation, and biking or walking are all effective ways to reduce traffic congestion and improve air quality. Using these alternative options can also save time and money for drivers who are tired of dealing with the consequences of HOV violations.
Nevada Traffic Ticket Attorney Ben Bateman
If you have received a carpool lane violation in Las Vegas, it is important to take it seriously. An experienced attorney, such as Attorney Ben Bateman, can help you fight the ticket and potentially have it reduced or thrown out. NevadaTicketLookup.com can also assist with finding information on your violation and help you understand your options.
Conclusion
In conclusion, carpool lane violations in Las Vegas, Nevada are a growing issue that needs to be addressed. Stricter enforcement and the use of alternative transportation options can help reduce the number of violations and improve the overall efficiency of the transportation system in Las Vegas. If you receive a carpool lane violation, it is important to understand your rights and options with the help of experienced professionals.
Carpool lane violations in Nevada have the risk of receiving a traffic ticket, fine and 4 demerit points on your driver's license for the moving violation. High Occupancy Vehicle (HOV) lane laws are commonly broken when there is only one person in the vehicle or when the hours of operation are not being followed.
Introduction to Carpool Lane Laws in Nevada
You can use the high-occupancy vehicle lanes if you are driving in Las Vegas or other places in Nevada. This is only true if you have at least one passenger with you in the car. HOV lanes have certain hours for the exclusive use rules. If you are driving in HOV lanes during the designated hours, you could get a traffic ticket for improper usage. However, a Las Vegas attorney can help to reduce the charges of carpool lane violations to non-moving violations.
Learn More
Continue reading the full article "Carpool Lane Violations in Las Vegas, Nevada
" on FixYourTickets.com
Have you lost your ticket? Las Vegas Traffic Ticket Lookup
Do you need to fix your traffic ticket? Fight Las Vegas Traffic Ticket
Do you have past due, unpaid tickets? Quash a traffic warrant
Or read our article about "Quashing a warrant in Las Vegas, Nevada"
Common Moving Violations in Nevada
Attorney Bennair R. Bateman – Abogado Benito
Grew up in Dallas, Texas and graduated from Hillcrest High School where he played football. He also lived for four and a half years in South America where he learned to speak Spanish fluently. He graduated from BYU with a degree in Political Science. Afterward, he worked on several political campaigns and worked for a non-profit educational foundation in the Washington DC area. After a while, he attended the William S. Boyd School of Law at UNLV.  During his time in law school, he was a member of the Society of Advocates (Boyd Law's moot court team) and served on its executive board. After law school worked at several prestigious law firms in Las Vegas before opening his own law office in February 2015.
Las Vegas Traffic Ticket Lawyer
FREE consultation for traffic fines
Have you received a traffic citation in Nevada? Our attorneys at Fix Your Tickets can help you reduce or even discard your tickets. For a FREE consultation, contact Las Vegas Traffic Ticket Lawyer Bennair Bateman 702-747-4444. In many cases, we can reduce your traffic tickets to a minor violation or dismiss them without the need for traffic school. Also, with the benefit of zero demerit points on your driving record.
North Las Vegas Municipal Court
Traffic Warrant Lawyer Las Vegas
Traffic Warrant Lawyer Las Vegas
If you need assistance with any type of warrant including Bench Warrant, Outstanding Warrant, Arrest Warrant, Search Warrant, or Traffic Warrant contact our Traffic Warrant Lawyer Las Vegas to see if we can quash the warrant.
Do you need to speak with a traffic accident lawyer?
Have you suffered an injury due to a traffic accident in Nevada? If so, you may be due damages. Contact our Las Vegas Traffic Ticket Lawyer to discuss your ability to win compensation to pay your lost earnings, loss of future wages, medical bills, pain, and suffering.
DUI Attorney Las Vegas
DUI Attorney Las Vegas, Nevada
If you have been pulled over and arrested for a DUI in Las Vegas, Nevada and you would like to speak with a DUI Attorney Las Vegas call 702-747-4444. Our Las Vegas DUI Lawyers can help with all DUI cases including Alcohol, Marijuana, Prescription drug, and Illegal Narcotics.